Starburst Slot 
When we first played Starburst slot from NetEnt, we were not big fans of it at all. It seemed like quite a dull game, and many slot machine critics were in the same boat as us.
However, the more we played it, and the more we saw waves of interest from the general consumer, we started to realize that this was not a slot built for us. It was a slot built for newcomers to the world of slot machines, and it performs incredibly well there.
The Theme
The theme of Starburst slot is basic. You can tell that it is a game which has been built for the Facebook crowd. It is very similar to those Candy Crush-style games, only you can win cash here rather than inject money into something which you have no hope of winning.
The game is colorful to say the least. Bright gems. A lot of effort went into it, even though the imagery is quite simplistic, so well done to NetEnt here.
Dedicated Mobile Game
For some reason, NetEnt have created a dedicated mobile version of Starburst called 'Starburst Touch'. We are not quite sure why they did, because the game is not that resource or feature heavy in the first place, so it did not really need a dedicated mobile app, but they done it anyway. It functions incredibly smoothly, so it has that going for it. There are no changes to the desktop version of the game other than having the word 'Touch' after it.
Low Variance
This is one of the reasons why we think that Starburst slot is aimed at newer players. It is a low variance slot.
For those who are unaware what this means; low variance means that you will be getting frequent wins. They won't be all that high, but they will come in fairly frequently. Since the house edge is 3.9%, you should get a sizeable portion back. For example; every $100 you gamble on this slot, you could reasonably expect to get at least $96.90 back. This number may go up or down, but it seems to be a fairly accurate figure for us.
The minimum bet is 10 cents, and the maximum $100 so you have plenty of price points to buy in at if you play this slot, which isn't too shabby. Honestly, Starburst is one of only a few slots out there which we would actively recommend that you gamble near the upper mark because it does offer such a great rate of return. If you do make a loss, and some people will make a loss, it is never going to be a drastic amount.
The Features
As with the theme, the feature set of Starburst is simple. In fact, there is just a single feature. This comes in the form of a Starburst Wild.
The Starburst Wild, just like any other wild in any slot ever made, will act as a replacement for other symbols in the game. It can only appear on reels 2, 3 or 4.
When it does appear, it won't just be replacing a single symbol on the reel, it will replace all the symbols on the reel. In addition to this, it will remain in place and you get a free re-spin. The maximum number of respins you can get is 3, because that is the maximum number of reels it can appear on.
You will be surprised at how often you will get those free three spins too. It happened every couple of dozen spins for us. It does not always pay out, but it does lend a touch of excitement to the game.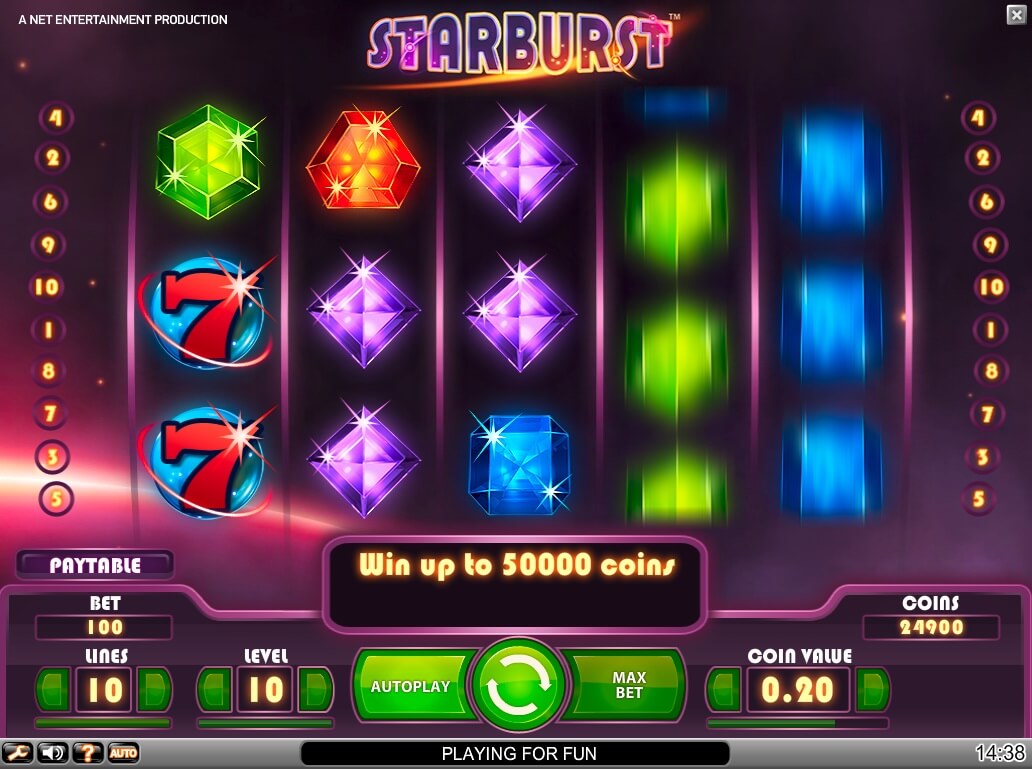 Betting Strategy
Nothing too crazy. This is a low volatility slot so bet as high as you are comfortable with. We like to get a good hundred or so spins from our bank roll, so aim for about that. Your bank roll will be filling up quite nicely anyway.
Conclusion
If you are new to the world of slots, or you are looking for a slot machine where you can safely built up your bank roll with no fuss then check out Starburst. It is not the greatest game in the world, and it can be a bit dull after a while, but there is a reason why it is so popular; it pays out well. You can head to any of the amazing Canadian casinos below if you want to check it out.